This print is available  for as little as $17 at lynetteyencho.com       Or you can also get it printed on all sorts of things at Society6
I call it "Inspiration".  Without the organizational skills, I see this process as thousands of ideas coming out of my head. Like braided tentacles, they are all over, in, around and through. They are beautiful but sometimes constraining. A look at one's self (the hand mirror) is going to be the answer.  This is not the first sketch but one of many. Those are not available because they are in bits and funny shapes.  Don't make a lot of sense.  Also, my "creative child" is very shy and once I threaten to show her voice, I violate a trust and she runs.  Inspiration is an issue I struggle with.  Always too much to consider in every painting.  There is no right way, only better ways and trip overs and usually way too much!  This is what is in my head.
Below I go through the stages of the painting.
01/10/2020 I am often asked where I get my ideas. I can only quote Picasso an say "I don't search, I find."  It is true. Creating something is a matter of picking up a pencil and applying what I have been thinking about. Anyone has that skill, what others don't know is I am throwing away a lot of it.  The possibility of sitting down to a canvas and just doing can render your results as well.
How often have you had a dream and wanted to record it? I had one recently.  Upon a new contract to give a show at Paradise Center for the Arts in June and Owatonna Arts Center in August, naturally, I wanted to create some new work. I opened myself up* and what I experienced was a whirlwind of ideas, objects, mediums and the list goes on.  Here is where I really envy those of you who have organizational skills. But without them, I arrived with this for the initial drawing.
02/05/2020  Here I have taken the image to a 30″ x 40″ canvas.  I like to use "Dark Sepia, Faber-Castell" pens for this.
02/27/2020 This is the stage where I am filling in more dark color with burnt umber or sepia acrylic and paying attention to composition.  But upon taking this picture, I see there is a big problem** with the proportion of her legs and how they fit on the right side of the chair (or lack thereof).
02/29/2020 In this latest step, you will see I have added areas I wanted lighter with titanium white. Then I took care of the leg problem without making the change too severe. 
03/06/2020  It is pretty much laid out the way I plan at this stage, however, by the end it will look  completely different. I am enjoying the way things are fitting together.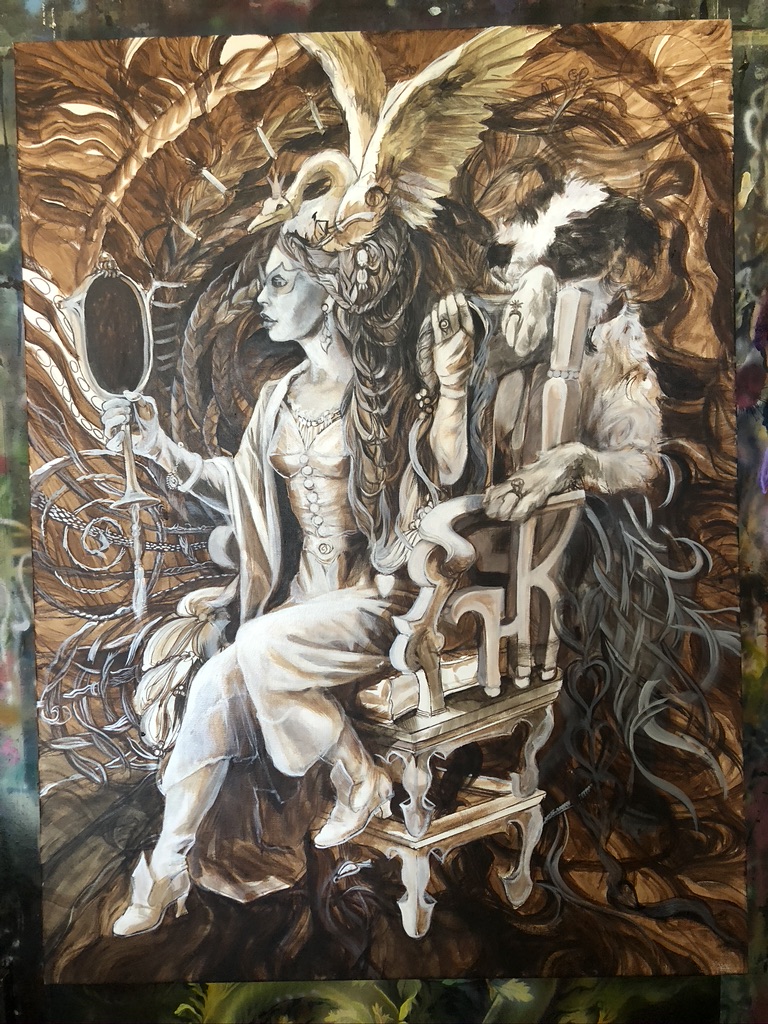 3/22/2020  Here is a pic of me working on the painting
03/23/2020 My next phase of this painting, creativity/inspiration. Now I am painting with blue and my favorite is cerulean. This is where I define the depth in the painting
03/24/2020  This morning I looked at what I did last night. Opened up a different blue, cobalt blue and started getting carried away. I also started with some raw sienna to warm it up. Yes, I painted her blue and clearly her self identity is important. I am hoping to reflect the sky from the mirror. That will explain itself eventually. The big point of this painting is to illustrate inspiration. How often do you feel inspired and when that happens we drift into a tangled mess? That is the way I create. However. I want to show that there is some organization and more ideas are forever "weaving" in and out. That is my challenge in every painting.
4/25/2020   This is the dangerous stage if you like to "wing it" as I do very often.  This is the adventure and all adventures have risks. I start looking at what I don't like, and what I like. Here is where you really start seeing the self-doubt and the internal struggle that can go with a painting.  Isn't this exciting?
05/12/2020  More detail added:
Finished 06/2020
---
---
*How do you open yourself up?  I pay a lot of attention to dreams and daydreams but there is so much more and it is often outside myself like the library, web, book stores. In this case, I was looking at Pinterest braids and the new and beautiful ways people are doing their hair.
**How can this happen? With this painting, I was sitting down a lot and probably too close.  I was actually nursing a bad back and standing was a little painful.  Alas, you have to get up and look from a distance always!  I learned that back in high school but looks like I need to learn it again.  One might say the digital camera can be a very good tool for this as well.